Panglung Kuten (oracle) was the most famous oracle of Kache Marpo and Dorje Shugden before 1959 in Tibet. Kyabje Pabongka Dechen Nyingpo opened his psychic channels initially and Phari Dorje Chang gave the retreats and practices to further enhance the clarity of his trances.
Panglung Kuten was a lay oracle and had a consort wife who served and took care of everything before, during and after the trance, and prepared his meals, which were especially made to ensure his body was pure. She was his attendant, student and consort. He was clearly a great being because he was a lay master and still able to take such clear trances to benefit others.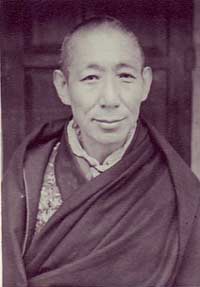 Kyabje Trijang Rinpoche was very affectionate with this oracle and would often consult him. Panglung Kuten's seat was in Panglung Ritroe (Retreat) near Sera Monastery. Panglung Ritroe was the residence of Panglung Rinpoche, Panglung Kuten, Consort and 10 fully ordained monks.
At one time, the Panglung Kuten traveled to Gyetong (Chong Den), Kham and took trance in order to benefit the monastery there. At this monastery, Panglung Kuten's trances were haughty, fierce and at times violent. This was unprecedented because while in Lhasa, he took mainly peaceful trances of Kache Marpo.
Kache Marpo takes a demeanor according to what his audience needed. He manifested peace because the people were sincere and would keep their promises and samayas. In places where the people were wild and un-Dharmic, he manifested arrogance, ferocity and he sometimes slapped and beat the monks. Some of these monks broke their vows and lived in robes to cheat sponsors. Hence, the stories of a violent and fierce oracle grew in that area. Some monks would soil their robes even today when they hear the oracle who takes trance of Kache Marpo is coming.
In 1956, three years before the exodus of Dalai Lama from Tibet, Dorje Shugden in a trance told a few Khampa warriors to band together and form a society of warriors at a lake in the shape of Vajrayogini's ritual chopper – Driguk. Shugden insisted through the Panglung Kuten to have this done. However, they were few, disorganized, lazy and were unable to find the lake. So, Dorje Shugden in a trance manifested anger and scolded the Khampa warriors. The protector fiercely told them to unite despite the fact that there were only a few of them. If they did not form into a group, then they were not to consult him again Shugden told them.
The Khampa warriors eventually got together and discovered the lake, and as predicted by Dorje Shugden, the dug out a sword near the lake, and together with another sword which Dorje Shugden gave them, it formed the emblem of Chushi Gangdruk, which was a crossed double swords. So they became the famous Chushi Gangdruk – four rivers and six mountains. Chushi Gangdruk successfully escorted the Dalai Lama out of Tibet in 1959. Shugden knew already in 1956 Dalai Lama would have to leave Tibet in 1959 and insisted Chushi Gangdruk be formed to escort the Dalai Lama safely out.
Unfortunately, many members of today's new and current Chushi Gangdruk no longer remember how Shugden asked them to form and guided them, all due to politics. Dorje Shugden is so compassionate that he even prepared the warriors so they would be able to assist the Dalai Lama at the most crucial time. The Dalai Lama wouldn't be alive if it wasn't for Dorje Shugden's assistance. Everyday, Chushi Gangdruk in Tibet do serkym and sangsol rituals to Shugden in the early morning to ask for blessings. It was Shugden's promise and instructions to them in 1959 to escort Dalai Lama out of Tibet.
During the crucial moment, the Dalai Lama requested Kyabje Trijang Rinpoche to ask the Panglung oracle whether he should escape from Tibet in 1959. Kyabje Trijang Rinpoche was very famous and wanted to avoid unwanted attention, so he sent Sera Mey Kensur Ngawang Drakpa and a *changzo Losang Yeshe. So, they went to the Panglung Oracle and he took trance.
Kache Marpo in a trance told the Dalai Lama to go and gave specific instructions. Then he gave a sword and instructed that the sword be held up in front of the Dalai Lama's party especially during dangerous moments while leaving Tibet to India. Besides Chushi Gangdruk, 33 Sera monks including the Abbot of Sera Monastery himself accompanied the Dalai Lama's escape party. Some of these monks are still alive and attest to this. Therefore, it is a hard fact that Dorje Shugden saved the Dalai Lama.
Panglung Kuten wanted to travel to India before the fall of Tibet also. However, Dorje Shugden in a trance asked him not to go, because he was needed to take trance to tell the Dalai Lama and other high lamas clearly what Dorje Shugden's instructions were in order to escape from Tibet to India during the Chinese invasion in the late 50s. He was only allowed to leave Tibet after the Dalai Lama and all the great High Lamas escaped. Shugden kept Panglung Kuten in Tibet until the very last moment to be is mouthpiece to ensure the safety of Dalai Lama and high lamas to escape.
Panglung Kuten and his consort escaped to India and resided in Kalimpong. He passed away at the age of 60, when his son was 13 years old. Kyabje Trijang Rinpoche trained his son to be his successor and today the son has become a famous Oracle as good as his father.
Today, the Panglung Kuten's son is the new Panglung Kuten. The current Panglung Kuten is a monk and lived in Sera Monastery in South India until the ban. Because of the ban on Dorje Shugden, Panglung Kuten resides in Taiwan permanently. Hundreds of requests per year are submitted to Panglung Kuten to take trance of Shugden and Kache Marpo for answers in Taiwan. Panglung Kuten continues to serve thousands around the world in his capacity to take clear and unmistaken trance of Shugden and Kache Marpo.
Admin
See video of *Changzo Losang Yeshe who went to Panglung Kuten to recieve advice from Shugden that Dalai Lama should leave Tibet:
Changzo Losang Yeshe is one of the few remaining monks who witnessed Shugden asking Dalai Lama to leave Tibet and Shugden himself will personally guard and guarantee the safety of Dalai Lama in 1959. Also Changzo Losang Yeshe is one of the few surviving monks who physically escorted the Dalai Lama to safety in the 1959 exodus. Here in this video, this old monk recounts what has happened as he was there.
Addendum
Zasep Tulku Rinpoche's autobiography 'A Tulku's Journey from Tibet to Canada', published in 2016, provides historical evidence and irrefutable proof that the Central Tibetan Administration is falsifying the facts when it comes to the practice of the Dharma Protector Dorje Shugden.
---
Historical accounts show that prior to the politicization of the Dorje Shugden practice by the Central Tibetan Administration, this popular deity was relied upon by Dharma practitioners to help in their spiritual practice. Contrary to detractors' claims about Dorje Shugden being 'anti-Dharma', this Dharma Protector practice was traditionally deemed to be suitable to be practiced alongside the Highest Yoga Tantras.
---
Zasep Rinpoche and his family were able to escape to safety prior to the events of 1959 through the clairvoyance and prophetic advice of Dorje Shugden through one of his oracles, Lama Gelong Chojor Gyamtso.
---
Oracles of the Dharma Protector Dorje Shugden were known for the accuracy of their prophecies due to Dorje Shugden being a fully enlightened deity with perfect clairvoyance. As stated clearly by Zasep Rinpoche in his autobiography 'A Tulku's Journey from Tibet to Canada', Dorje Shugden warned the Tibetans of the impending loss of their homeland but his advice was mostly ignored by the Tibetan government.
The Tibetan government chose to consult the worldly state protector Nechung, and Nechung advised that the Dalai Lama should remain in Tibet where he would be safe. This was mistaken advice, as historical events would later show. Fortunately for Tibetan Buddhists all around the world, Kyabje Trijang Dorje Chang had great faith in Dorje Shugden and consulted the protector for advice on the Dalai Lama's safety. Dorje Shugden via the Panglung Oracle urgently adviced the Dalai Lama to leave for India immediately and gave the exact escape route. In saving the Dalai Lama from certain harm, Dorje Shugden prevented the destruction of Tibetan Buddhism and preserved the future of the Tibetan culture and people.
Zasep Rinpoche's account of events concur with monastic records that it was indeed Dorje Shugden who saved the Dalai Lama instead of Nechung, contrary to the claims of the Tibetan leadership.
---
Dorje Shugden's practice was first established within the Sakya school of Tibetan Buddhism. The Sakya Throneholders regarded this Dharma Protector as an enlightened being and Dorje Shugden, together with Dorje Setrab and Tsiu Marpo formed the triune of Sakya Protectors known as Gyalpo Sum. Today, Sakya practitioners claim that Dorje Shugden was never widely practiced by their lineage but history proves otherwise. The undeniable fact is that before the CTA's religious ban, Dorje Shugden was practiced first by the Sakyas and was later transmitted to the Gelug school where it was practiced by the majority of the Gelugpas.
---
Contrary to the CTA's claims that Dorje Shugden's practice is sectarian, Zasep Rinpoche's autobiography shows how practitioners of all four schools of Tibetan Buddhism lived and practiced together in harmony, especially during the early years of exile in India. It was only when the CTA launched a virulent smear campaign against Dorje Shugden that the general public began to label Dorje Shugden a sectarian practice. In truth, Dorje Shugden's practice is no more sectarian than the practices of other Dharma Protectors such as Mahakala Bernagchen, Achi Chokyi Drolma or Dorje Legpa, who protect the Karma Kagyu, Drikung Kagyu and Nyingma schools respectively.
---
By the 1980s, the Tibetan government had failed to fulfil multiple promises to return the Tibetan people to their homeland. A scapegoat was needed and they made one out of an ancient Buddhist practice, pinning the loss of Tibet and the failure of the Tibetan cause on Dorje Shugden. In his autobiography, Zasep Rinpoche is of the same opinion, stating that "…the [Dorje Shugden] controversy was orchestrated by the Tibetan Central Administration…"
The Tibetan leadership effectively sanctioned witch-hunts on Dorje Shugden practitioners and persecuted them using government instruments, declaring that simply by being a Shugden worshipper, one was effectively an enemy of the Tibetan nation.
As a result of the hatred against Dorje Shugden practitioners instigated by the Tibetan leadership, virtually all Shugden Buddhists had to fear for their lives, or at least for their safety.
---
Dorje Shugden's beneficial practice has continued to thrive due to the courage and commitment of high lamas such as Zasep Tulku Rinpoche.
---
For centuries, Dorje Shugden has been practiced alongside the highest practices of the Gelug and Sakya lineages. Zasep Tulku Rinpoche's list of transmission is an indication that the highest scholars viewed the Protector as an enlightened being compatible with their yidam practices.