COMMENTARY
O Sonam Dragpa, the teacher of teachers!
I bow down at your feet.
From the first page of the Foreword:
Panchen Sonam Dragpa, the holder of sutra and Vajrayana teachings, was a master whose outstanding learning and spiritual accomplishments…
His first incarnation came in the form of one of the five prestigious disciples of Lord Tsong-kha-pa and became known as Vinaya Holder Dragpa Gyaltsen."
VINAYA HOLDER = DULDZIN – THIS IS DULDZIN DRAKPA GYALTSEN, WHO PROMISED TO ARISE AS A SPECIAL DHARMA PROTECTOR TO GUARD JE TSONGKHAPA'S TEACHINGS.
Then came Panchen Sonam Dragpa, the author of the present text. The next was Ngari Tulku Dragpa Gyaltsen. In this way, a line of his incarnations, each with the Dragpa surname, followed successively.
SO WE HAVE, CLEAR AS A BELL
DULDZIN DRAKPA GYALTSEN
PANCHEN SONAM DRAKPA
TULKU DRAKPA GYALTSEN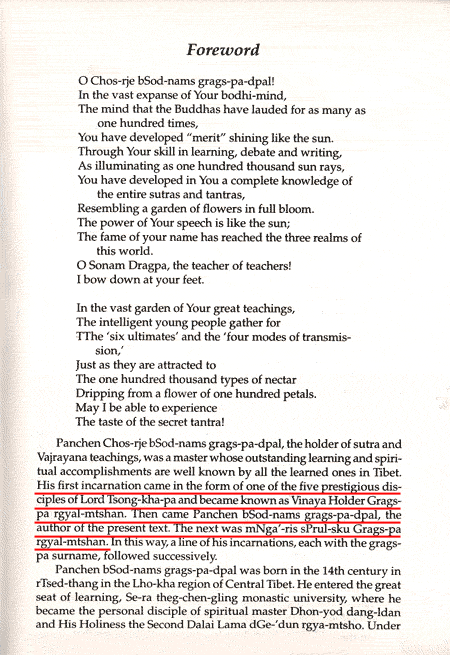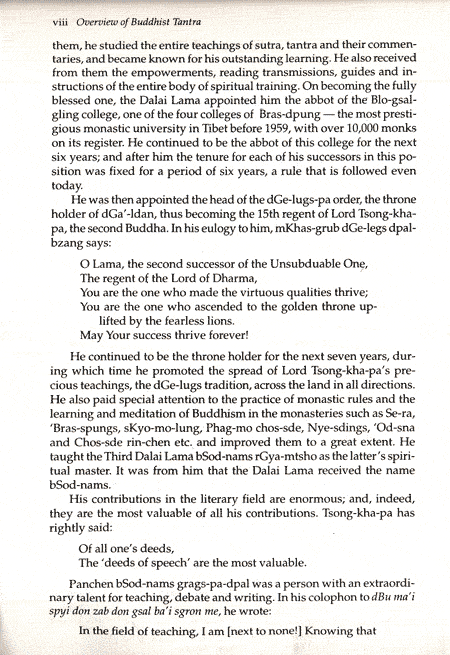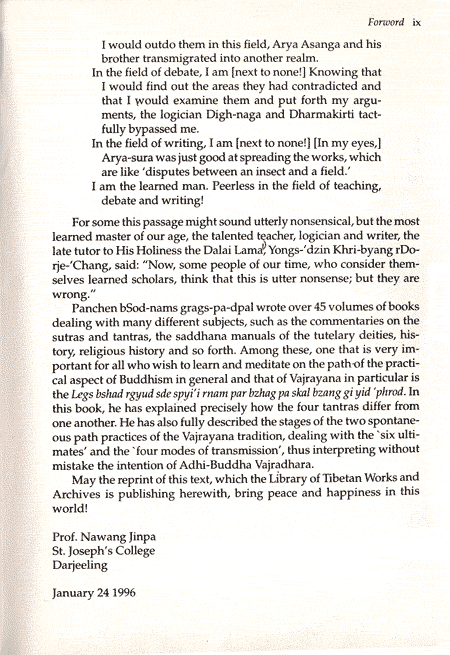 - THIS BOOK WAS PUBLISHED IN 1996, LONG AFTER THE INOFFICIAL BEGINNING OF THE CAMPAIGN AGAINST DORJE SHUGDEN, AND ONLY ONE YEAR BEFORE THE OFFICIAL WORLDWIDE HUNT BEGAN.
REMEMBER, DORJE SHUGDEN IS SYNONIMOUS WITH TULKU DRAKPA GYALTSEN…
- THIS BOOK WAS PUBLISHED BY THE 'LIBRARY OF TIBETAN WORKS AND ARCHIVES' WHICH WAS FOUNDED IN EXILE (1970) AS ONE OF THE MAIN INSTRUMENTS OF PRESERVING TIBETAN BUDDHISM. IF THERE IS AN OFFICIAL AUTHORITY, IT WOULD HAVE TO BE THEM.
Conceived of and founded by His Holiness the 14th Dalai Lama of Tibet, the Library of Tibetan Works and Archives (LTWA) is one of the most important institutions in the world dedicated to the preservation and dissemination of Tibetan culture.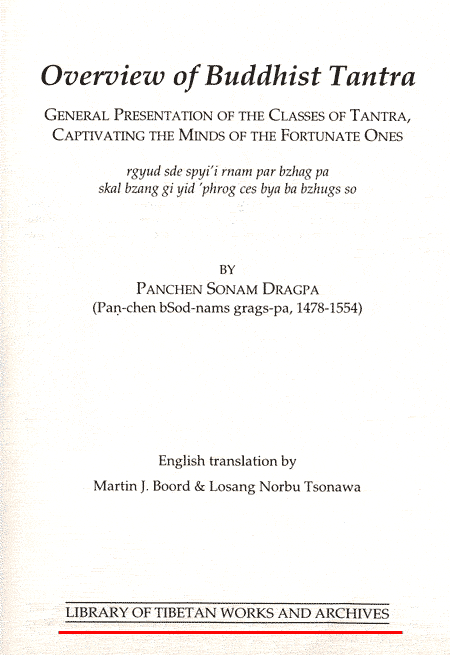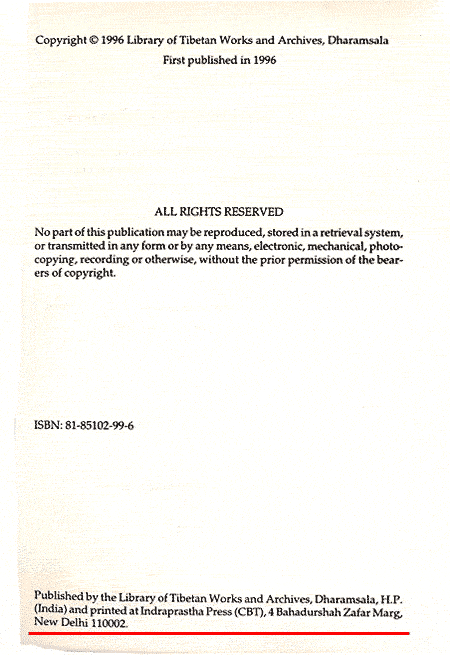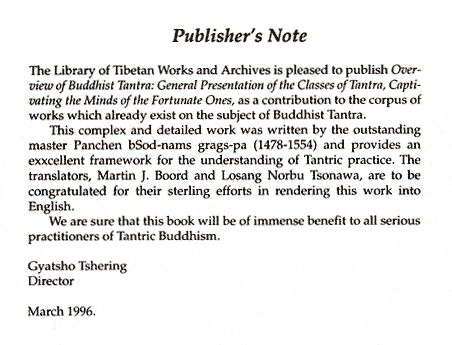 - IN JANUARY 2008, AMIDST THE SAD EVENTS OF DISRUPTED DEBATE, EXPULSIONS, SIGNATURE CAMPAINS, HIS HOLINESS THE DALAI LAMA TAUGHT EXTENSIVELY FROM TEXTS AUTHORED BY PANCHEN SONAM DRAKPA – WHICH SEEM TO BE TRULY INDESPENSABLE AS HE COULD HAVE EASILY TAUGHT FROM OTHER TEACHINGS WITH AUTHORS LESS ASSOCIATED WITH HIGHLY CHARGED CONTROVERSY – STRESSING THAT TULKU DRAKPA GYALTSEN WAS NOT REALLY HIS INCARNATION, SO THERE WAS NO PROBLEM OR CONFUSION.
SO THE QUESTION IS:
WHO'S RIGHT? THE DALAI LAMA OR THE DALAI LAMA?
- THE DALAI LAMA WHO FOUNDED LTWA AND DEFINITELY, BY DEFAULT, ENDORSED THE BOOK AND FOREWORD QUOTED ABOVE, OR THE DALAI LAMA AT DREPUNG?
- THE DALAI LAMA OF 1996 OR THE ONE OF 1997, SO TO SPEAK?
- THE DALAI LAMA TUTORED FOR DECADES BY HIS ROOT GURU KYABJE TRIJANG DORJE CHANG, OR THE ONE ERASING HIM FROM THE LAMRIM LINEAGE PRAYER?
DIFFICULT QUESTIONS, CONSIDERING THAT EVERYTHING IN THIS CONTROVERSY HINGES ON THE LEGITIMACY OF TULKU DRAKPA GYALTSEN AS PANCHEN SONAM DRAKPA'S REINCARNATION…
TRAVELING BACK IN TIME, WE FIND THE 5TH DALAI LAMA WHO ON THE ONE HAND WROTE:
The so-called Dragpa Gyaltsen pretends to be a sublime being,
Even though he is not,
And since this interfering spirit and creature of distorted prayers
Is harming everything – both the dharma and sentient beings -
Do not support, protect or give him shelter, but grind him to dust.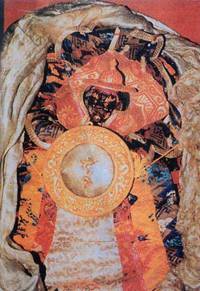 AND ON THE OTHER OFFERED THIS STILL-EXISTING STATUE TO GADEN PELGYELING MONASTERY, COMPOSED A PRAYER TO DORJE SHUGDEN ETC
- THE JEALOUSY OF THE GREAT FIFTH'S MINISTERS OF TULKU DRAKPA GYALTSEN'S GREAT SPIRITUAL ATTAINMENTS, RENOWN AND STATUS – WHICH WERE CONSIDERED EQUAL TO THE DALAI LAMA'S – IS ONE OF THE FEW POINTS ON WHICH EVERY COMMENTATOR AGREES.
- MOST COMMENTATORS AGREE THAT THESE MINISTERS ORCHESTRATED THE MURDER OF TULKU DRAKPA GYALTSEN.
- WE ALL AGREE THAT TO STATE THAT A DEMON CAN ARISE FROM AN ENLIGHTENED BEING IS TO DENY KARMA AND DEPENDENT ARISING, AND THEREFORE BREAKING ONE'S VOWS BY HOLDING WRONG VIEWS.
- ON THE OTHER HAND: AN ENLIGHTENED BEING (ALL THE DRAKPAS ARE MANJUSHRI EAMANATIONS) SUMMONING VAJRA WRATH AT THE TIME OF DEATH BY BEING MURDERED – FOR A SUBLIME PURPOSE IS ENTIRELY PLAUSIBLE…
THIS IS HOW TULKU DRAKPA GYALTSEN FULFILLED THE PROMISE GIVEN IN HIS PREVIOUS INCARNATION AS DULDZIN DRAKPA GYALTSEN.
O Tulku Drakpa Gyaltsen,
equal to the Great Fifth,
arisen as sublime protector of Lord Tsongkhapa's teachings!
I bow down at your feet.