Born in Kham, Tibet in 1927, the thought of becoming a monk arose within Kensur Tamding Gyatso Rinpoche when he was 6 or 7 years old. Some said that he was the reincarnation of Tulku Donkun, a great yogi and teacher.
Upon entering a monastery in the province of Dagyab, from age 11 to 19, Kensur Rinpoche studied and memorised all tantric rituals including torma-making, mandala offerings and the use of ritual instruments such as vajra, bell and damaru.
Whilst living and studying in Kham, Kensur Rinpoche's first teacher was his uncle, Yonzing Vajradhara Kelsang Phuntsok Rinpoche. During this time, Kensur Rinpoche also received many instructions in Sutra, Tantra and initiations from other teachers.
When he was 19, Kensur Rinpoche joined Gaden Shartse Monastery, located in Lhasa, the capital of Tibet. Gaden is one of the three major monastic universities of Tibet.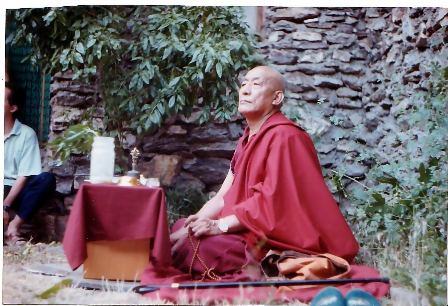 Kensur Rinpoche spent 12 years in Lhasa studying the five major treatises or themes of Buddhism. After the Chinese invasion of Tibet, when many monks escaped into exile, Kensur Rinpoche continued his studies in India.
Kensur Rinpoche has received many teachings from His Holiness the 14th Dalai Lama and his two tutors, H.H. Kyabje Ling Rinpoche and H.H. Kyabje Trijang Rinpoche.
Kensur Rinpoche has also received many teachings from H.E. Kyabje Zemey Dorjechang, as well as H.H. Kyabje Zong Rinpoche with whom he had a very close connection to, and received numerous transmissions from both in Tibet and India.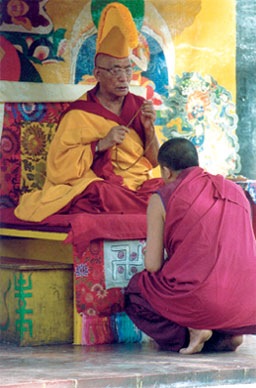 Between 1965 and 1966, under the guidance of His Holiness the Dalai Lama, Kensur Rinpoche became one of a few selected teachers and received master classes.
In 1977, Kensur Rinpoche received his Geshe Lharampa degree, the highest rank in Tibetan Buddhism.
Upon his retirement in 1987, at the age of 60, Kensur Rinpoche went to Spain where he was established as the Spiritual Director of many centres. From Spain and in many different countries, Kensur Rinpoche gave many lessons, public lectures, commentaries, initiations and meditation retreats. Kensur Rinpoche was granted Spanish nationality in late 2000.
In July 2001, Kensur Rinpoche was appointed by His Holiness the Dalai Lama as the abbot of Gaden Shartse Monastery. Kensur Rinpoche served as abbot until his death in April 2002.
In life, Geshe Tamding Gyatso showed himself to be highly trained, with a vast knowledge of and great achievements in Buddhist texts, practices and tantric rituals.
Above all, Kensur Rinpoche is a perfect example of a life lived according to the Buddhist principles of simplicity, a good heart, love and universal compassion for all sentient beings.
http://losanggyatso.blogspot.com/2008/09/kyab-gye-khensur-tamding-gyatso.html
http://sites.google.com/site/gandenchoelingcenter/founder-and-spiritual-leader
http://losanggyatso.blogspot.com/2008/09/kyab-gye-khensur-tamding-gyatso.html