Due to their compassionate nature, it is said that enlightened beings will come back endlessly until the end of samsara. Such is the case with high masters like Tulku Drakpa Gyeltsen, who is an emanation of Manjushri and who would later arise as Dorje Shugden.
However, since the time Dorje Shugden was accused of being an evil spirit, a ban has been placed on all searches for his future reincarnations. That is, the Ngari line of incarnations from his time as Tulku Drakpa Gyeltsen living in Zimkhang Gangma, has been banned. Because of this we have not heard of any reincarnation of Tulku Drakpa Gyeltsen but due to his enlightened nature, we should not discount that he has returned and is living among us.
There are many historical texts that mention Tulku Drakpa Gyeltsen's future emanations. We of course know that Tulku Drakpa Gyeltsen arose as Dorje Shugden. A recurring story of his emanation is that of Emperor Kangxi of China, who was famous for being an emanation of Tulku Drakpa Gyeltsen (1).
There is also further evidence in the introduction to the be.bum of Dorje Shugden (2). A be.bum is a collection of texts/works authored by a single lama. In the introduction of the be.bum it is stated that Tulku Drakpa Gyeltsen wrote poetic verses announcing that he would return through his emanations all over the world, and not solely in Tibet. To demonstrate such mastery over one's emanations is an indication of Tulku Drakpa Gyeltsen's attainments.
The Library of Tibetan Works and Archives (LTWA) have published texts which provide compelling evidence that Dorje Shugden and the Ngari Tulkus are one and the same. In particular, texts authored by Dorje Shugden's previous incarnation (3) Panchen Sonam Drakpa. Panchen Sonam Drakpa states that the first of his incarnations was one of the five disciples of Lord Tsongkhapa. This incarnation was Duldzin Drakpa Gyeltsen, renown for being a pure holder of the Vinaya.
Panchen Sonam Drakpa then goes on to state that his next incarnation will be Ngari Tulku Drakpa Gyeltsen i.e. his next incarnation falls in the line of Ngari Tulkus. This information is summarized from the original text written by Panchen Sonam Drakpa in the Overview of Buddhist Tantra, translated into English.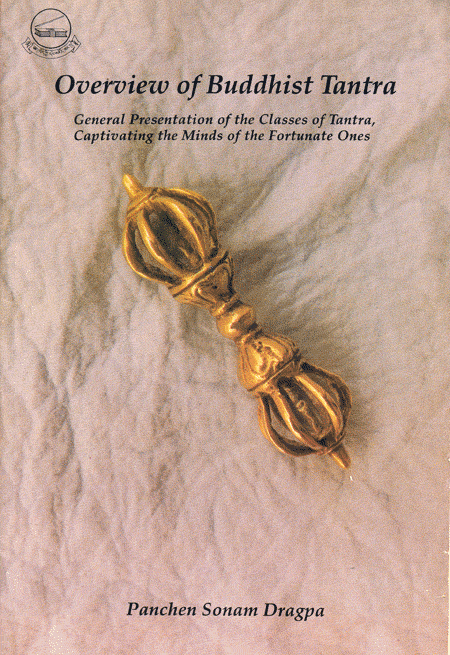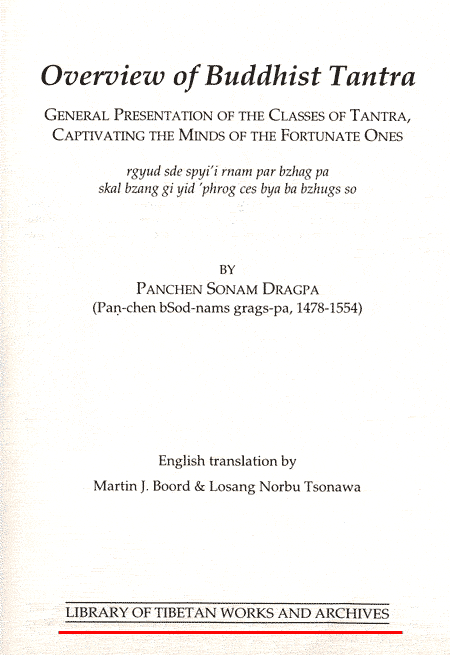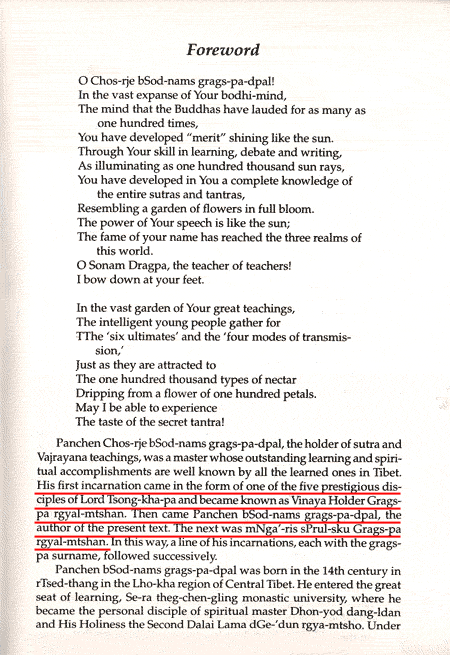 At present we do have a Ngari Tulku living among us. Ngari Rinpoche, born Tenzin Choegyal is His Holiness the 14th Dalai Lama's youngest brother. He was recognized as the 15th reincarnation of Ngari Rinpoche at the age of 4. It is the duty of Ngari Rinpoche to oversee many monasteries in western Tibet. In fact, he has the right to claim the abbotship of Likir Monastery, located in Ladakh in Northern India. However he does not currently reside there, but in Kashmir Cottage, Dharamsala, India with his wife.
Ngari Rinpoche has two children, both of whom are studying in the United States. Even the Dalai Lama's own online biography states that his youngest brother was recognized as Ngari Rinpoche (4). Given the ban, it would only make sense for someone as significant as Ngari Rinpoche to keep a low profile.
Supporting Panchen Sonam Drakpa's prophecy that he would return in the line of Ngari Tulkus, is the highly regarded contemporary scholar Kachen Sopala of Tashi Lhunpo Monastery (5). He writes and is sure that Tulku Drakpa Gyeltsen has reincarnated in the line of Ngari Tulkus, and is the current Ngari Rinpoche.
The evidence is irrefutable but the Tibetan government has downplayed this information until now, for fear that the Dalai Lama's reputation would be ruined. Why would the Dalai Lama put a ban on his own brother and his line of reincarnations? How can an evil spirit reincarnate as the brother of the Dalai Lama? Why would the Dalai Lama allow his brother to be recognized into a line of incarnations supposedly banned? Why would the Dalai Lama let his brother who is supposedly an evil spirit to live and interact with him? How can an evil spirit have claim to the abbotship of monasteries?
So many questions, with such few logical answers. The situation does not make sense. Surely the Dalai Lama, an emanation of Chenrezig himself, will know who his brother is a reincarnation of. Yet the Dalai Lama has said nothing. What would this information mean for the ban? What if one day the Dalai Lama admitted it himself?
One thing is for sure – Tulku Drakpa Gyeltsen has been reincarnating this whole time, and will continue to reincarnate. Now we have some evidence to show who, and where he could be. Given the nature of this information in relation to the Dogyal ban, it should be considered that is big news in Tibetan Buddhism.
On "http://en.wikipedia.org/wiki/Tulku_Dragpa_Gyaltsen", it was reported that in the Chronology of Tibet for the Wood Sheep year (1655-1656) which was written by Sumpa Khenpo, it states that "The Kangxi Emperor [is born and] becomes famous as the reincarnation of Tulku Dragpa Gyaltsen."
The introduction and catalog to the be.bum: 'Jam mgon rgyal ba gnyis pa'i bstan bsrung mthun mong ma yin pa rgyal chen rdo rje shugs ldan rtsal gyi chos skor be bum du bsgrigs pa'i dkar chags gnam lcags 'khor lo mu khyud 'phrin las 'od bar zhes bya ba bzhugs so. Published in The Collected Works of Rje-btsun Blo-bzang-rta-mgrin, vol. X, pp.s 391- 408, New Delhi: Mongolian Lama Gurudeva, 1975.
Overview of Buddhist Tantra by Panchen Sonam Dragpa, Translated by Marin J. Boord & Losang Norbu Tsonawa. 1996. "/?p=236
"http://www.dalailama.com/biography/from-birth-to-exile" – "The youngest brother, Tenzin Cheogyal was also recognised as the reincarnation of another high lama, Ngari Rinpoche."
Kachen Sopala of Tashi Lhunpo Monastery claims that Tulku Drakpa Gyeltsen has reincarnated in the line of Ngari Tulkus. "http://www.shugdensociety.info/Bernis2EN.html"
by JeremyG