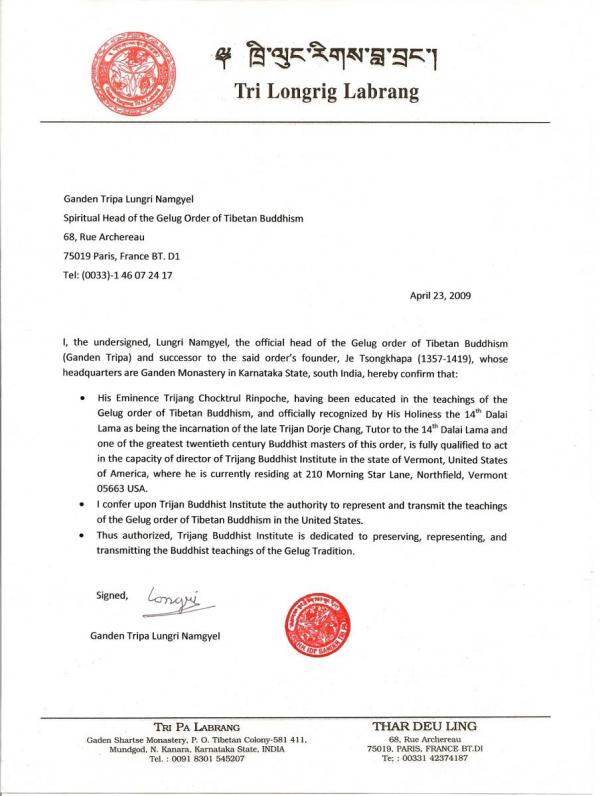 April 23, 2009
I, the undersigned, Lungri Namgyel, the official head of the Gelug order of Tibetan Buddhism (Ganden Tripa) and successor to the said order's founder, Je Tsongkhapa (1357-1419), whose headquarters are Ganden Monastery in Karnataka state, south India, hereby confirm that:
• His Eminence Trijang Chocktrul Rinpoche, having been educated in the teachings of the Gelug order of Tibetan Buddhism, and officially recognized by His Holiness the 14th Dalai Lama as being the incarnation of the late Trijang Dorje Chang, Tutor to the 14th Dalai Lama and one of the greatest twentieth-century Buddhist masters of this order, is fully qualified to act in the capacity of director of Trijang Buddhist Institute in the state of Vermont, United States of America, where he is currently residing at 210 Morning Star Lane, Northfield, Vermont 05663 USA.
• I confer upon Trijang Buddhist Institute the authority to represent and transmit the teachings of the Gelug order of Tibetan Buddhism in the United States.
• Thus authorized, Trijang Buddhist Institute is dedicated to preserving, representing, and transmitting the Buddhist teachings of the Gelug tradition.
Signed,
Ganden Tripa Lungri Namgyel
---
Responses to a Letter from H.H. Gaden Trisur Lungri Namgyel Rinpoche
His Holiness, the former Gaden Tripa wrote a letter in 2009 that openly endorsed the practice and qualifications of H.H. Trijang Chocktrul Rinpoche. See the full article here. As the young Trijang Rinpoche continues to be a strong Dorje Shugden practitioner (with the blessings and "approval" of the Dalai Lama), he remains a huge topic of contention and debate within the Tibetan Buddhist community. An endorsement like this from the Gaden Tripa is very significant, marking large implications not just for Trijang Rinpoche, but for the Gaden Tripa himself.
Below are a series of responses from various active forum posters on the DorjeShugden.com forum, which we have compiled for your reading and contemplation. Please add to the discussions if you have further perspectives, comments and thoughts. We always welcome debate and exchange. You can also read the full debate here: http://www.dorjeshugden.com/forum/index.php?topic=495
(Note: His Holiness is still referred to in these posts as "Gaden Tripa" as this was before his term of service had completed and he was still in office. He is now referred to as Gaden Trisur. The posts have been lightly edited for style and grammar.)
---
By Denpa
This is very historical piece of recognition. It shows that H.H. Gaden Tripa cannot be swayed by the winds of politics. He has stood firm and officially announced that H.H. Trijang Choktrul Rinpoche is a qualified being to study with; his center is a correct place to join.
We all know that H.H. Trijang Choktrul has not renounced Dorje Shugden. Not renouncing Dorje Shugden does not make him unqualified. In fact, whether someone is qualified or not is not defined by the practice of Dorje Shugden.
Having said that, there are many great Lamas who have not renounced Dorje Shugden secretly or openly, and/or they are still quietly practicing and will not renounce the practice. This letter of recognition from the Gaden Tripa is thus also an indirect message that these Lamas are just as fine to study with and follow. It recognizes the hundreds of other great lamas past and present who have not renounced Dorje Shugden and implies that they are still qualified due to their learning and practice. Again, their qualifications are not defined by whether they continue Dorje Shugden's practice or renounce it.
Whether you wish to practice Dorje Shugden or you don't is absolutely fine. The KEY is your learning and practice.
Thank you to Your Holiness Gaden Tripa for speaking up, giving rest to many people's minds and clearing much confusion.
May Your Holiness Gaden Tripa live long and continuously turn the wheel of Dharma. May your strength give hope to many spiritually desolate and desperate people.
---
By TK
If anyone says the Gaden Tripa is wrong in writing this letter, then they are saying that he is not a good Gaden Tripa or not qualified. That would turn everything upside down.
Then, it would mean that the selection process to determine the Gaden Tripas is wrong. That would make us doubt all the previous Gaden Tripas and all future Gaden Tripas, which would be a very dangerous direction to go towards.
It begs the important question: if the Gaden Tripas are wrong, then who can we trust? Just the Dalai Lamas?
Some of the previous 13 Dalai Lamas had root teachers who were Gaden Tripas. If they were wrong, then 'naturally' the previous Dalai Lamas would have had to be wrong too since wrong teachers breed wrong students. Then everyone is wrong. We don't want to go down that road, do we??
The current Dalai Lama can say his root tutor ,the previous Trijang Rinpoche Lobsang Yeshe, was wrong to teach the practice of Dorje Shugden; that it was a mistake. How about if we now say that the current Dalai Lama is wrong to say that his Guru is wrong? What if we said that the current Dalai Lama is wrong to say that it is wrong to practice Dorje Shugden? If the Dalai Lama's Guru can be wrong, then can't the current Dalai Lama himself (who is Trijang Rinpoche's student) be wrong too?
I am not bombarding the Dalai Lama. It is just a debate I have in my head.
View the original thread on the forum and join the discussions here