Who is Setrab?
Lord Setrab is actually an ancient protector who can be traced back to the days of Shakyamuni Buddha, from Bodhgaya where Shakyamuni was enlightened. Lord Setrab is an emanation of Buddha Amitabha who had sworn to Buddha Shakyamuni to protect the teachings of Buddhism in general. Hence, Lord Setrab is definitely an Enlightened Protector.
The practice of Lord Setrab was brought to Tibet by Loden Sherab who also painstakingly brought many of Buddha's teachings from India to Tibet. Since then, this Dharma Protector has been practiced by many people and benefited countless sentient beings.
Lord Setrab has also been the Dharma Protector of Ganden Shartse Monastery for over 600 years. There are also Khamtsens in Drepung Loseling that take Setrab as their main protector up till today such as Nyagre Khamtsen. Many of the great Dharma teachers today take Lord Setrab as their Dharma Protector as it has been proven over the years that the practice of Lord Setrab is authentic and effective.
How is Lord Setrab connected to Dorje Shugden?
Although Dorje Shugden and Lord Setrab are Dharma Protectors in their own right, both are closely connected through the past life of Dorje Shugden who is Tulku Drakpa Gyeltsen.
As Lord Setrab was one of Tulku Drakpa Gyeltsen's main Protectors, they must have had a very close bond that even until today, both are still very much connected. Even in the celestial Mandala of Dorje Shugden resides Lord Setrab on the second level. This shows that they have a very special relationship with one another. They abide in the same divine mandala palace.
Many years back when Dorje Shugden was said to be a spirit, many rituals and fire pujas was performed to destroy the Great King. But because Dorje Shugden is an Enlightened Protector, he could not be destroyed in any way. During those times, only Lord Setrab manifested assistance towards his close friend, Dorje Shugden.
There is a story that says when Mingling Terchen performed a wrathful fire puja on Tulku Drakpa Gyeltsen, Lord Setrab emanated a celestial mansion in the sky as Mingling was about to start the puja. This act distracted Mingling Terchen's mind for a moment while giving enough time for Gyalchen Dorje Shugden to escape.
With Lord Setrab, an Enlightened Protector, manifesting assistance towards Dorje Shugden over and over again, it must be true that Dorje Shugden is not an evil spirit but instead an enlightened Being who has taken an oath to protect Lama Tsongkapa's teachings.
Iconography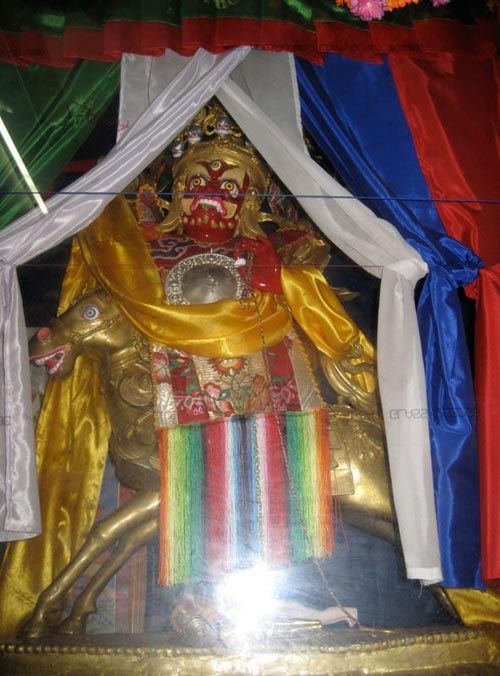 Lord Setrab has one face and three eyes. His one face signifies the non-dual nature of an awakened mind. His three eyes, like many other Buddhas, symbolises his ability to see the past, present and future simultaneously.
His body is blazing red in colour just like Amitabha Buddha. His wrathful form indicates compassion and love, battling our obstacles towards the spiritual path. Similarly, his external armor shows that he is always ready for war against our worldly obstacles to make it conducive for us to practice the Dharma with faith.
Lord Setrab's right hand holds a cudgel with a symbolic wrathful mudra representing his power over spirits and the crushing of ignorance. His left hand holds a noose which symbolizes Lord Setrab being able to subdue malevolent spirits and also to overpower our ego. Lord Setrab also holds a spear to pierce through the hearts of enemies.
Lord Setrab rides on a horse that is able to ride through the three realms in a single instant. This reveals the speed that Lord Setrab moves throughout existence to benefit countless beings.
Nero Stallion