The opinion piece below was sent to dorjeshugden.com for publication. We accept submissions from the public, please send in your articles to [email protected].
---
By: Ringzin Tsomo
On August 30, 2017, His Holiness the 11th Panchen Lama Bainqen Erdini Qoigyijabu traveled to Chamdo and visited Jampa Ling Monastery. The monastery is situated in Zhidoi County, Qinghai province of China. This visit follows the Panchen Lama's visit to Denma Gonsa Monastery on July 19, 2017. Jampa Ling was built in 1444 by a disciple of the famed Lama Tsongkhapa, founder of the Gelugpa tradition of Tibetan Buddhism. Up until now, Chamdo is one of the strongholds of Dorje Shugden practice. The loyalty of the locals towards this sacred practice is well known within Tibetan society. Jampa Ling is also known for its strict disciplinary and monastic system, both of which are hallmarks of the Gelug tradition.
Throughout all of the pictures and the video below, the Panchen Lama is seen blessing the public by placing his hand onto their heads. This is a traditional form of bestowing blessings, practised by high lamas for thousands of years. The crowd were extremely fortunate to be in the presence of this great teacher who has studied under various elite and knowledgeable masters. Even without his 'Panchen Lama' title, he is still a qualified and pure monk who has kept his vows intact since the time of his monastic ordination. He has also received numerous tantric initiations from some of the most renowned mastersof this era. Therefore he is more than qualified to teach and transmit the holy teachings of Lord Buddha. Below are some pictures and a video of the event so that you may rejoice in the spread and growth of Dharma in Tibet. May His Holiness the 11th Panchen Lama's works be free from obstacles, and tens of thousands of people continue to be able to connect to the beneficial teachings of Buddha and Tsongkhapa through his activities.
The Panchen Lama visits Jampa Ling Monastery in Chamdo, Tibet
Or watch on server | download video (right click & save file)
Information on Jampa Ling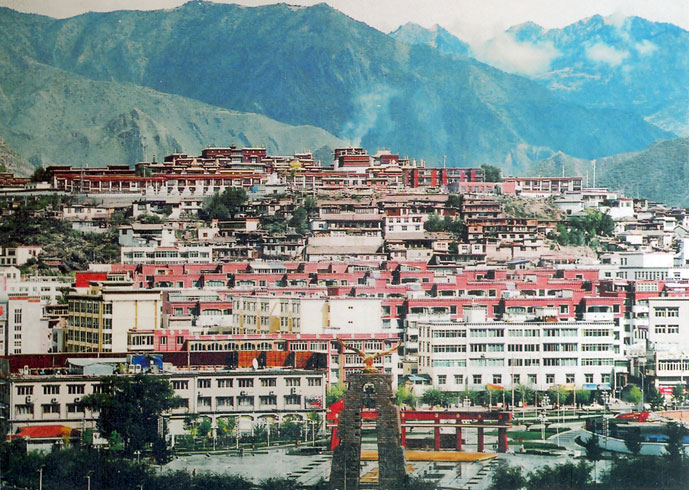 Jampa Ling is located in Chamdo, Tibet, and was built by a disciple of Lord Tsongkhapa in 1444. At its prime there was 5,000 monks at the monastery. The monastery is surrounded by many smaller chapels, and is especially famous for its annual "Lama Dance". Currently, the monastery houses 1,300 monks. Overlooking the town of Chamdo, the monastery is situated on a hill above the confluence of the rivers Dza Chu (Mekong) and Ngom Chu. It was founded as one of the earliest Gelugpa institutions apart from Ue-Tsang, and has grown to become the largest Gelugpa monastery in Kham. A local legend tells that when Lord Tsongkhapa traveled from Amdo to central Tibet and came through Chamdo in 1373, he predicted that the Buddhist doctrine would thrive there one day. This prophecy came true some seven decades later, in 1437, when one of Lord Tsongkhapa's disciples named Jangsem Sherab Sangpo laid the foundations for a big monastery. Sherab Sangpo was a native of Kham who first studied at Sera monastery in Lhasa. As he was very much impressed with the high standard of spiritual and intellectual attainments on the part of many scholars there, he once thought to himself, 'On my return home I should like to do something similar for the welfare of the people.' Jang Chub Bum, an important personage at Sera, read his mind and invited him to his own room. The guest was given many gifts and was told, 'I understand you will soon return to Kham to propagate the doctrine, hence these small gifts.' The guest was surprised, saying: 'I did not speak of returning to Kham. Do I understand that I am not welcome here? I shall ask Gyaltshab Je about this. Maybe he will let me stay.' He went to Ganden Monastery to see him. But strange enough, this senior disciple of Lord Tsongkhapa did not persuade him to remain in Tibet either, but instead encouraged him to go to Chamdo and gave him many gifts. Consequently, in 1444 he built the Jampa Ling Monastery in Chamdo, the first in Kham. For more information, click here.