His Eminence Khejok Rinpoche is the sixth incarnation of the renowned Khejok Lama who lived during the Fifth Dalai Lama's time, and was also the spiritual teacher to the Ming Dynasty Emperors, like Chen Lung etc.
Rinpoche was born in 1936 in the Gyalrong district of eastern Tibet, now known as Sichuan province. His father Tsering Phuntsok was a local leader and his young mother Tashi Lhamo was renowned for her great beauty.
At the time of Rinpoche's birth, the sun, the moon and many stars were simultaneously visible in the sky, a celestial configuration which was regarded as most auspicious, signifying the birth of an important person. The location of the house where Rinpoche was born was immediately next to Zarthu Monastery of the village. This small monastery was headed by the successive incarnations of the Khejok Tulkus.
As a young boy he was recognised as the reincarnation of the late Rinpoche, and earmarked to be the successor to the Khejok Lama lineage. After the recognition, he was given formal training at the native Dhe-Tsang Monastery and Sermey Monastic University in Tibet. 
Subsequently, he was enthroned as the abbot of Dhe-Tsang Monastery, the second oldest monastery of the Gelugpa lineage and the spiritual headquarters of all Gelugpa monasteries in Eastern Tibet.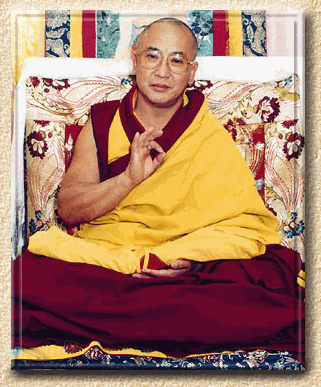 At the age of 17, His Eminence entered the prestigious Sera Monastic University in Lhasa, one of the three largest monastic universities in the world. Later, he graduated as a Geshe (a title of scholarship equivalent to a Doctorate degree).
After graduation, Rinpoche served the monastery as a resident elder, being widely respected by both the ordained and lay assemblies of Tibetans for his wisdom, compassion and practical advice. 
His Eminence is also known for his vast knowledge on statue-making, astrology divination and has been certified as a practitioner of traditional Tibetan Medicine by the Tibetan Government.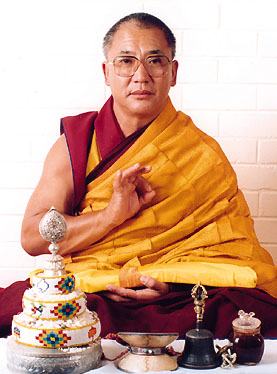 Since 1986, Rinpoche has been teaching in Australia to Western students and has established over 12 Buddhist education centres bearing the common name of Institute of Buddhist Learning & Practice (IBLP), in Australia, Canada and Asia (Singapore, Malaysia, Indonesia, Hong Kong). There are also two centres of healing natural medicines. His Eminence now makes annual teaching tours to Hong Kong, Malaysia, Singapore, Indonesia, Taiwan, China, Canada and around Australia.
Over the centuries, the lineage of the Khejok Tulkus was influential in eastern Tibet and the Chinese imperial courts. The lineage of Tulkus who came after the 1st Khejok Rinpoche have all been great masters, held in high esteem by local Tibetan kings and Chinese emperors alike.
Sources:
Buddhist International Alliance / Institute of Buddhist Learning & Practice
http://www.b-i-a.net/rinpoche.htm
http://gurusim.tripod.com/1whoi.htm