It has always been dorjeshugden.com's firm stand that His Holiness the Dalai Lama is purposely creating the ban on Dorje Shugden with a bigger picture at the back of His mind, which is actually to promote Dorje Shugden, especially in the Chinese world, where a renaissance of Buddhism is expected to happen.
Below's account is a proof that the Chinese are actually promoting Dorje Shugden (despite with less-than-holy reasons) in China, just as what His Holiness has intended secretly.
From Big Uncle in the Forum
We could have seen this coming. It is just a matter of time that the Chinese would come clean with this. They are doing it covertly now and perhaps later, they will be more open and forceful about this especially when the Dalai Lama is not with us anymore. The Chinese would do anything to break the independent spirt of the Tibetan people, which appears to be embodied by their belief in the Dalai Lama.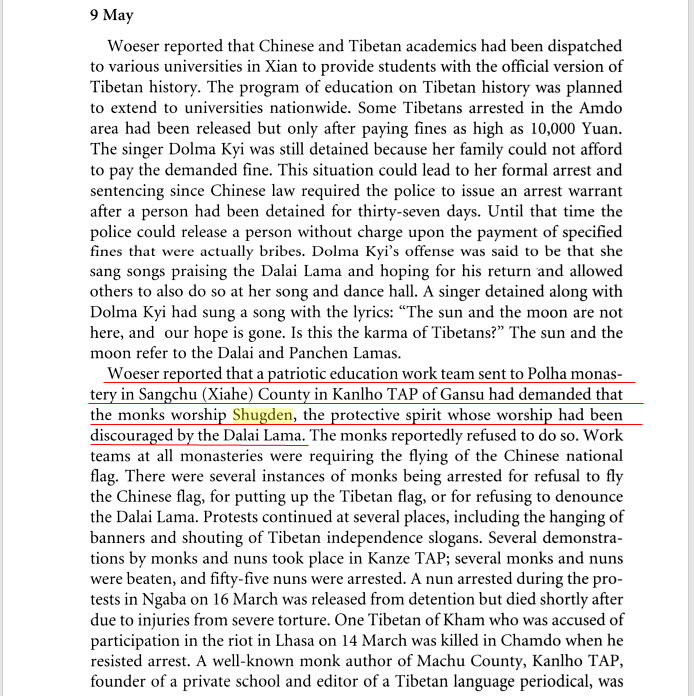 In that way, the Dalai Lama is very skillful and he foresaw what the Chinese would do for Dorje Shugden. Some would argue it was shrewdness and some would say it was clairvoyance of Chenrezig. It doesn't matter. Through his ban alone created so much hype and promotion that no pujas or marketing team could have brought Dorje Shugden to the world in such a quick manner. That means the Dalai Lama have never forsaken his lineage and Lamas. In fact, he risked everything for it.
He knew many Shugden practitioners would have to 'suffer' for Dorje Shugden to grow big. Some would argue that he is not very compassionate. Real practitioners will say that he is very skillful and that he was working for a bigger picture to be realized. Whatever the viewpoint, the Dalai Lama would be remembered by the results of his actions.
Woeser, a quarter-Han and three quarters-Tibetan, was born in Lhasa. Her grandfather was an officer in the Nationalist Army of the Kuomintang and her father was a high rank Army officer in the People's Liberation Army.
When she was a small child, her family relocated to the Kham area of western Sichuan province. In 1988, she graduated from Southwest University for Nationalities in Chengdu with a degree in Chinese literature. She worked as a reporter in Kardzé and later in Lhasa and has lived in Beijing since 2003 as a result of political problems.
Woeser is married to Wang Lixiong, a renowned author who frequently writes about Tibet. According to Reporters sans frontières, "Woeser is one of the few Tibetan authors and poets to write in Chinese."
Taken from this book:
Hardcover: 320 pages
Publisher: Rowman & Littlefield Publishers (December 16, 2009)
Language: English
ISBN-10: 0742566854