Dorje Shugden wants us to:
soar the path of immortal liberation on unified wings of Sutra and Tantra.
He wants to:
increase Lozang the Victorious One's Teachings, and the life span and activities of the Teachings' upholders.
He wants to:
pacify all harm to us, the yogis and entourages, that arises because of previous karma and immediate conditions, and spontaneously accomplish, just as we wish, all good things, both spiritual and temporal.
For those who recognize him
as the supreme collected nature of all Gurus and Protective Deities,
He wants to
pour down a cool rain of the two siddhis.
Quotes from His Holiness the Dalai Lama's prayer, Melody of the Unceasing Vajra
In short, Dorje Shugden wants us to practice authentic Dharma and gain authentic attainments. He wants us to get onto a valid path and keep us from straying from it; from falling into the abysses of eternalism and nihilism and the unfortunate karma created by doing so.
Does he feel only Lozang the Victorious One's Teachings – Je Tsongkhapa's Geluk tradition – are authentic and valid?
We don't think so! An enlightened being is, of course, universal.
Buddha is not a Buddhist; Buddha is a Buddha. Manjushri/Yamantaka don't belong to anyone exept to those who practice what they teach.
That Dorje Shugden has a special affinity with and loyalty to Nagarjuna and Je Tsongkhapa's clarifications on the subtlest points regarding the nature of reality, and the Lamrim (see Lam Dre/Sakya, "Words of my perfect teacher" by Patrul Rinpoche/Nyingma, "Jewel ornament of liberation" by Gampopa/Kagyu) teachings, doesn't mean his help is limited to Gelukpas. As an illustration of this, check out this thanka with Dorje Shugden and Guru Rinpoche.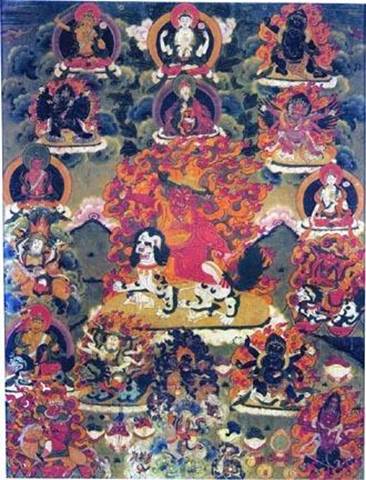 His Holiness has taught on different occasions that madhyamika and dzogchen, as expounded by Mipham, arrive at the same result.
He has also stated (see for example His book, "Four Essential Commentaries") that all the four traditions are based on bodhicitta and the prasangika madhyamika philosophy; in short, that there are differences in the methods applied, but not in the result.
It is true that Je Tsongkhapa's realization and unmistakable explanations of emptiness have been praised as unique and supremely sublime by great masters of all traditions, such as His Holiness Gyalwa Mikyo Dorje, the eighth Karmapa:
You, o Tsong Khapa, are Tibet 's chief exponent of voidness,
Having exposed false teachings transgressing the excellent ways well shown by the Buddha,
you firmly established your Bold Doctrine,
Anyone who disparages your doctrine must face the terrible wrath of the Dharma protectors"
From: In Praise of the Incomparable Tsongkhapa/ Life and Teachings of Tsong Khapa/Library of Tibetan works and archives
Does that mean the Karmapa is a Geluk fanatic? Or, more likely, as the holy being he was, did he rejoice in what he recognized as precious, and maybe encourage us to learn from it, just like Je Tsongkhapa did from masters of all lineages?…
Disagreement on crucial points is not between Nyingma and Geluk, etc. Roy Sutherwood writes in 1999's September newsletter of The International Kalacakra Network (IKN),
"I think we should be aware that the differences between the Gelug and Jonang schools on the question of the nature of ultimate truth are intricately associated with the deep experiences of two great Kalacakra yogis, Tsong Khapa and Dolpopa."
And,
"His Holiness presents some hard arguments about what he regards as the "inferior view of other-voidness (page 237, The Gelug/Kagyu Tradition of Mahamudra', H.H. The Dalai Lama & Alexander Berzin, Wisdom Publications): "

Even though it is called other-voidness, it is an extremely deficient and faulty assertion of other voidness. Many learned and experienced masters from the Sakya, Kagyu, Gelug and Nyingma traditions have refuted it.

In taking voidness of a self nature to be equivalent to total non-existence and dependent arising to mean arising dependent on unawareness, and asserting thoroughly established clear light mind as an other-voidness devoid of non-self-existence and this type of dependent arising, they are left with no alternative but that clear light mind is truly and inherently existent, existing through its own power, by virtue of itself. It is devoid not only of arising dependently on unawareness, but also of arising dependently by virtue simply of mental labelling.

Such assertion is clearly in total contradiction with what Nargarjuna has expounded. It basically contradicts the sutras. If we accept as the authentic words of the Buddha the expanded, intermediate and brief recensions of the Prajnaparamita sutras and take them as valid, this type of other-voidness view becomes untenable.

These are the teachings that we are adviced not to rely on, lest we pollute our understanding of emptiness, which is the only way to liberation, and liberation is what Gyalchen Dorje Shugden wants for us.