His Eminence Venerable Kyabje Lati Rinpoche was born in the Kham region of Eastern Tibet in 1922. Following his recognition as a reincarnation of the great practitioner, Gongkar Rinpoche, His Eminence joined the local monastery at the age of ten.
When he was 15, Rinpoche traveled to Central Tibet where he began his formal training at Gaden Shartse Monastery. His study included Pramana Vidya (Logic), Prajnaparamita (Perfection of Wisdom), Madhyamika (Middle Philosopy), Abidharma (Treasure of Knowledge), and Vinaya (Spiritual Rules and Moral Law).
In 1959, after nineteen years of intensive study and training, Rinpoche sat for the Geshe Lharampa examination. This major examination was held in the summer palace of His Holiness the 14th Dalai Lama, located in the capital of Tibet, Lhasa. Candidates were various scholars and top students from the three main monasteries, and yet Rinpoche still managed to emerge 2nd overall. In the next year, H.E. was officially conferred as "Geshe Lharampa" – a qualification which is equivalent to the PhD degree in the Indian universities.
The following year, he joined Gyuto Tantric College in Lhasa where he undertook the study and intensive training of Tantra. During this period he also served as tutor to many young reincarnate masters and gave numerous public teachings.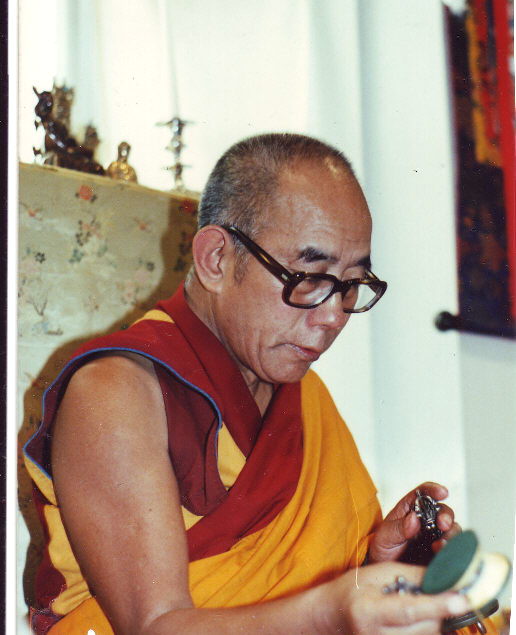 Belonging to a very rare class of scholars, saints and practitioners who completed his training in an independent Tibet, in 1959 Rinpoche followed His Holiness the 14th Dalai Lama into exile, where he continued to spread the Dharma by teaching at various monasteries and schools.
In 1976 Rinpoche was invited to the United States to teach on a wide range of Buddhist subjects at the University of Virginia and other centers of higher learning. After teaching in the United States for over a year, he returned to India where he was appointed the Abbot of the Shartse Norling College of Gaden Monastery which had been reestablished in South India.
He served successfully in that post for eight years where, besides looking after the administration, law and order of the Sangha, he also taught extensively on all aspects of Buddhism.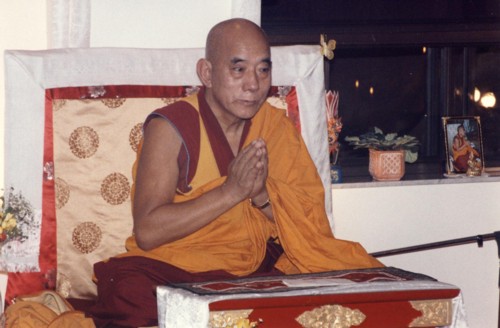 Rinpoche remains a major lineage holder of the Gelug tradition. In addition, His Eminence Lati Rinpoche is the Root Guru of the present Trijang Rinpoche – reincarnation of one of the Root Gurus of the present Dalai Lama. Lati Rinpoche is also the Root Guru of almost all the highest Gelugpa masters and scholars today. Moreover, Rinpoche acts as the spiritual assistant to the present Dalai Lama. Lati Rinpoche, one of the world's foremost Buddhist scholar, has been a visiting professor of Buddhist Studies at the University of Virginia USA.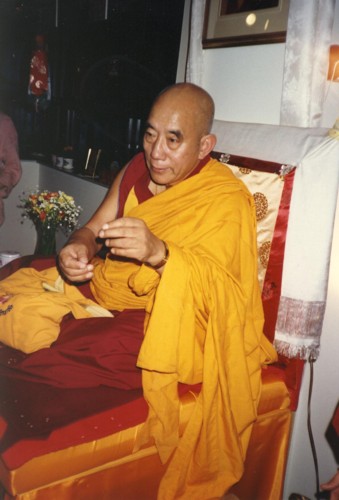 Rinpoche has authored many important books in Tibetan Buddhism including: Death, Intermediate State and Rebirth, Mind in Tibetan Buddhism, and Meditative States in Tibetan Buddhism. Currently, Lati Rinpoche continues a rigorous teaching schedule at Gaden Monastery where he has been appointed tutor to many of the young Rinpoches by His Holiness the Dalai Lama.
Sources:
Thubten Dhargye Ling: (http://tdling.org/gurus)
Jangchub Gepel Ling: (http://www.gepeling.org/4.html)
Singapore DharmaNet: (http://www.buddha.sg/htm/people/kyabje.htm)