HH Dagri Dorje Chang is widely recognized as one of the confidantes of HH the 14th Dalai Lama. HH Dagri Dorje Chang is recognized as the reincarnation of the previous Dagri Dorje Chang, whose disciples included masters such as Kyabje Pabongka Rinpoche, Ribur Rinpoche, Lama Thubten Yeshe and H.E. Geshe Lama Konchog.
HH Dagri Dorje Chang is also the manifestation of one of the 16 Arhants commonly seen in thangkas of Buddha Shakyamuni. HH Dagri Dorje Chang Rinpoche is no ordinary Lama but one who 2500 years ago had the merit to be reborn as one of Buddha Shakyamuni's disciples.
The glorious master, Dagri Dorje Chang, Lobsang Lungrig Gyatso (5th incarnation of previous Dagri Dorje Chang Rinpoche) was born on the 5th day of 11th Tibetan month 1956. His father was named Ngawang and his mother, Paldron. At the time of his birth, there were many miracles and auspicious signs.
In 1957, he was recognized as the incarnation of the 4th Dagri Dorje Chang after extensive checks. Soon after Communist China invaded Tibet, Rinpoche was only 4 years old and could not escape out of Tibet. He was unable to go to his monastery because shortly after his recognition, the monastery was destroyed by the Chinese. In the next 10 years, he experienced numerous difficulties and hardships, just like many other Tibetans. But still, he put much effort into his studies and managed to learn some Tibetan grammar and handwriting.
"I remained at home. From my father and the 'solpon' from my past incarnation I learned reading, writing, mathematics and the Tibetan language. Later I went to a regular elementary school and until I was 15 years old I also had to herd sheep and cows. Then the Chinese began a coal mine near the mountains. I was put in that camp and had to do forced labour. Many Tibetans died there.
"Most of the people were illiterate but knew that I was the reincarnated Dagri Tulku, because he was very well known in that area. They had a lot of faith in me. So I became their teacher. In the evenings, after work, I taught them to read and write. Later I did administrative work in the camp, because in the meantime I had learned Chinese and how to do bookkeeping. All in all, they were very difficult years."
In 1978, together with many other Tulkus and high lamas who were freed after being imprisoned by the Communist Chinese, Rinpoche went to Lhasa. This was after he had been in the camp for five years. In 1979, following international pressure, His Holiness the Dalai Lama's extensive campaign on the Tibetan struggle and after the Tibetan Government in Exile had been to Tibet to observe the situation there, Communist China began to allow some religious freedom. Monasteries started to be restored and Rinpoche assisted in the process and also worked as a teacher, accountant etc.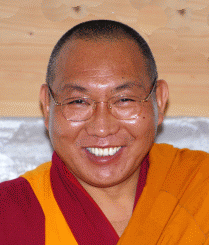 In order to carry on his lineage, in 1982, Rinpoche was ordained as a novice monk by the ex-abbot of Sera Je Monastery called Lhundrup Thabkhe. He remembers, "I met the former abbot of Sera Je in secret. He gave me the first vows." When he became a fully ordained monk the same year, he received the name of Thubten Lhundrup Tenzin Gyaltsen. He had brief opportunities to study and practice Buddhist philosophy and memorized Buddhist prayers.
Many students from his past life then started making requests and wrote many letters urging Rinpoche to leave Tibet for India. They helped to make travel preparations and obtain travel documents. "In the eighties, after the changes in the Chinese policy, monks from Sera came to me and requested me to go to India. My previous incarnation was renowned and I was encouraged to go to India for my education. Then many people collected money for me. It was very difficult to get a passport and I had to wait two years before I could leave. Only after my escape to India did I become a novice monk," recalls Rinpoche.
On 22nd July 1983, Rinpoche left Tibet after making a pilgrimage to many holy sites such as Jokhang Temple, Sera, Drepung, and Gaden Monastery where he made many extensive prayers and offerings. He was received by some monks and Gelong Losang Chophel from Kopan Monastery at the border of Nepal and Tibet. In Nepal he stayed in Kopan Monastery and during his stay here, visited many holy places such as Boudhanath Stupa, Shyambunath Stupa etc.
Rinpoche left for Dharamsala, India on the 23rd August 1983. He was received by the Tibetan religious office and security office and the treasurer of his former past life, called Jampa Tsondu.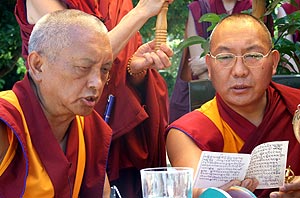 Rinpoche met H.H. the Dalai Lama on the 27th August 1983 and discussed with him the situations in Tibet and his life there as well as for his future. HH the Dalai Lama stressed the importance of practicing Buddhist Philosophy. During his stay in Dharamsala, Rinpoche together with other newly arrived Tibetans attended classes to learn English, Tibetan, poetry etc.
His Holiness, upon hearing this, granted Rinpoche extensive gifts and presents.
At the same time, Rinpoche also met Lama Thubten Yeshe of Kopan Monastery. Lama Yeshe kindly promised to take care of Rinpoche's future studies and other necessities. 
On 2nd January 1984, Rinpoche went to Sera Je monastery. Upon arrival, he was well-received by many representatives of the monastery. For the next 11 years, Rinpoche studied the 5 major texts of Buddhist philosophy such as collective topics, Paramita, Madyamika, Abhidharma, Vinaya and logic etc.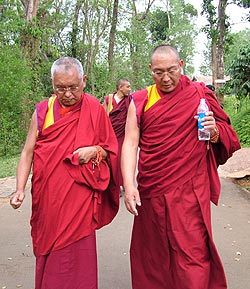 Rinpoche spent the next 4 years in the Lharampa class. In January 1999, he received the Geshe Lharampa degree, which is the highest qualification obtainable. He had to take his examinations of debate in Sera, Drepung and Gaden Monastery.
Later at the lower Tantric University, Rinpoche studied Tantra extensively and graduated at the top of his class. From end of 2001, Rinpoche, at the request of many students, started teaching in India, Europe and Singapore.
Sources:
FPMT (http://www.fpmt.org/teachers/touring/242-dagri.html)