Or watch on server | download video (right click & save file)
His Holiness Kyabje Zemey Rinpoche is one of the most erudite scholar-yogi masters of this century to arise from the esteemed Gaden Shartse Monastery.
Zemey Rinpoche was a very devoted student of H.H. Kyabje Trijang Rinpoche. And Zemey Rinpoche held all the lineages, transmissions and practices that Trijang Rinpoche had.
When HH the 14th Dalai Lama visited China in the 50's, Zemey Rinpoche was one of the esteemed masters that Dalai Lama invited to follow him to China (see photo below, Zemey Rinpoche in colored robes).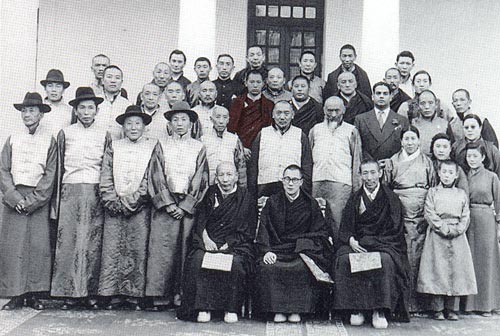 Zemey Rinpoche has many great disciples within Gaden Monastery as he is highly revered. The current translator of the Dalai Lama, Geshe Thupten Jinpa is a direct disciple of Zemey Rinpoche and lived in Zemey Rinpoche's house (ladrang) for many years studying directly under Zemey Rinpoche in Gaden Shartse.
The Zemey Rinpoche line of tulkus comes from the Yangding, Kham district of Tibet where is highly revered by the populace. He belongs to the same monastery as the current Gaden Tri Rinpoche Jetsun Lungrik Namgyal in Yangding.
The current Kyabje Zemey Rinpoche's incarnation has been successfully found in Tibet and enthroned as shown in this video.
May this current splendid incarnation manifests the activities and speech of Lord Tsongkhapa once again.
Enjoyed the footage? Download this video
Interesting note:
Story told by Zemey Rinpoche's changtso himself:
The previous Zemey Rinpoche escaped to India together with the Dalai Lama, when in India, Zemey Rinpoche established the monastic education including arranging the syllabus.

Trijang Rinpoche then was aging, so Trijang Rinpoche told the monks in Gaden openly that Zemey Rinpoche's knowledge and attainments are the same as his, so he said the monks should go and invite Zemey Rinpoche to teach in Gaden and be their guru.

Trijang Rinpoche's students then went to invite Zemey Rinpoche with hand-written letter by Trijang Rinpoche, Zemey Rinpoche sent an application letter to Dalai Lama and then went straight to Gaden to assume his position without waiting for Dalai Lama's approval.

Later Dalai Lama went to Gaden, and Zemey Rinpoche had written a book about DS and monks were distributing it, every monk had it, but it was not given to the Dalai Lama because Dalai Lama had started to speak against DS. So the Dalai Lama was upset about this and started to suppress and ostracize Zemey Rinpoche.

Then after Trijang Rinpoche passed away, Dalai Lama completely ousted Zemey Rinpoche and openly spoke against a great teacher like Zemey Rinpoche. Zemey Rinpoche was recommended by Dalai Lama's own guru Trijang Rinpoche himself.