"A tireless supporter of Buddha Dharma, H.H. Kyabje Trijang Rinpoche, our lineage, our practices, His Monasteries, World Peace, and our Protectors Dorje Shugden and Palden Lhamo.
May some of my life be taken away to add to the lifespan of this great incomparable and compassionate healing Lama. May his works further grow and may his aspirations come true!! Seeing him truly is healing.
Lama Gangchen was born in Western Tibet in 1941. He was recognised at an early age to be a reincarnate Lama healer and was enthroned at Gangchen Choepeling Monastery at the age of five. When he reached the age of twelve, he received the "Kachen" degree which is usually conferred after twenty years of study. Between the ages of thirteen and eighteen, he studied medicine, astrology, meditation and philosophy in two of the major monastic universities of Tibet: Sera and Tashi Lhumpo.
He also studied in Gangchen Gompa, Tropu Gompa, and Neytsong Monastery. His root guru was H.H. Trijang Dorjechang, the junior tutor to H.H. the Dalai Lama. Other main teachers were H.H. Ling Rinpoche, the senior tutor of the Dalai Lama as well as H.H. Zong Rinpoche, who was one of his major gurus for healing and astrology.
In 1963, he went into exile to India where he continued his studies for the next seven years at the Varanasi Sanskrit University in Benares. In 1970, he received the Geshe Rigram degree (similar to a PhD) from Sera Monastic University situated in South India. After his graduation, he worked as a Lama healer among the Tibetan communities in Nepal, India and Sikkim, during which time he saved the lives of many people and was named private physician to the Royal Family.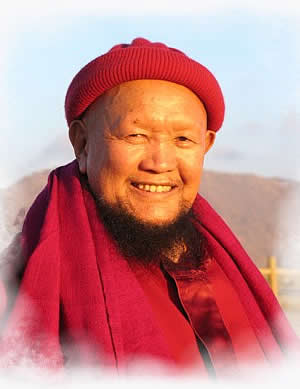 In 1981, Lama Gangchen visited Europe for the first time and has since become a resident and Italian citizen. In the same year, he also established his first European centre: Karuna Chötsok in Lesbos, Greece, where he planted a bodhi tree in the 'Buddha Garden', and where he consecrated what was to become the first in a long line of World Peace Buddha Statues, thankas and images.
Since 1982 he has travelled extensively, both healing and teaching in Italy, Spain, Greece, Switzerland, Germany, Holland, Belgium, France, England, Ireland, U.S.A., Brazil, Chile, Argentina, Nepal, Malaysia, Singapore, Thailand, Indonesia, Sri Lanka, India, Mongolia, China, Tibet, Russia, and Buriyatia. During these years he has led many pilgrimages to some of the most important holy places of the Buddhist tradition, guiding large groups of friends and disciples from all over the world, the majority of whom have reported many physical and mental benefits from the experience.
In addition to these pilgrimages to Buddhist holy places, Lama Gangchen has visited many holy sites in Europe, including that of Assisi, Italy, the home of Saint Francis, and the ancient temples of Delphi and Athens in Greece. In England, he has visited the sites of Stonehenge and Avebury, as well as visiting many Western Buddhist centres and temples. During all these pilgrimages, Lama Gangchen has met many high lamas, both in the East and the West. For many years, Lama Gangchen promotes a very important project: the integration between Tibetan Medicine (an incredible and still unknown treasure of humankind) with allopathic medicine. In 1988 he opened his first residential dharma centre outside of Asia, Shide Chö Tsok Peace Dharma Centre, in Sao Paulo, Brazil. At present, Lama Gangchen has more than 100 Inner Peace Education Centres worldwide.
Lama Gangchen Rinpoche is the holder of an ancient and unbroken lineage of Tantric Masters dating from the time of Shakyamuni Buddha. His Ngalso Tantric Self-Healing is based on Buddha's teaching but it is suitable for modern people.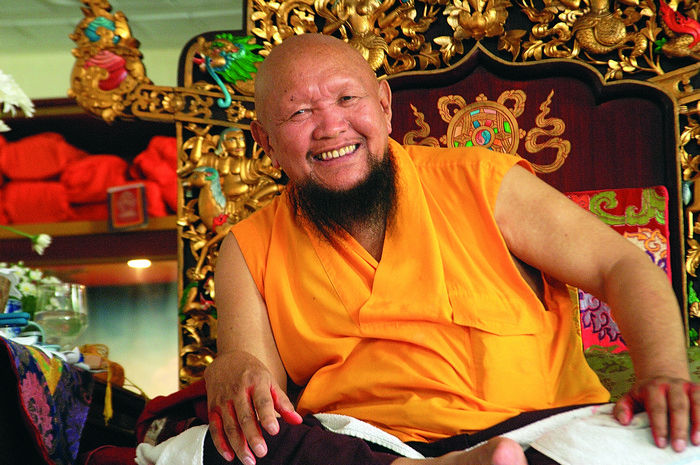 Since coming to the West in 1982, and later becoming both a resident in Italy and and eventually an Italian citizen, Lama Gangchen's activities have taken on an ever increasing worldwide scope towards the achievement of World Peace. Mainly, it began with the founding of The Kunpen Lama Gangchen Institute for the propagation and preservation of the Tibetan Medical Tradition in Milan, Italy in 1989. Here, Lama Gangchen has initiated the first extensive programmes of Himalayan medical and astrological studies for Western students. Also concerned with the preservation of the Himalayan culture, the centre holds courses in Buddhist philosophy, thangka painting and other arts. Lama Gangchen has invited many groups of Tibetan monks to Europe such as the Gaden Shartse monks, the Sera Mey monks, the Nyalam Phengyeling monks and the Segyupa monks to make sand mandalas and perform sacred Cham dances; all of their activities are dedicated to world peace.
The Institute is also the Western Headquarters of Lama Gangchen's activities and his Western residence. The Lama Gangchen World Peace Foundation (L.G.W.P.F.), International Friendship for the Support of Tibetan Medicine, Vajrayana Buddhist Philosophy and Self-Healing to Develop World Peace, was established in 1992 following an international conference of doctors, healers and therapists held in Milan, Italy. The Foundation has its main seat in Spain and was officially recognised by the Spanish government in November 1993. Each year the L.G.W.P.F. holds an International Congress in Madrid, Spain, which provides a forum for discussion between scientists, doctors, therapists and philosophers. One of the major aims of the Foundation is to provide documented scientific evidence about the benefits of ancient Tibetan Himalayan healing methods, other natural healing methods and the energetic qualities of spiritual healing. The Foundation also gives a base for constructive dialogue between different cultures in order to create and promote educational methods to develop Inner Peace and World Peace.
The Himalayan Healing Centre in Kathmandu, Nepal provides local inhabitants with minimal cost Western medical care alongside traditional Tibetan and Ayurvedic medical care. The Healing Centre offers many different facilities enabling the use of many therapeutic systems, space to hold residential courses in Tibetan medicine, lectures, conferences and so on, with the aim to create a base for the exchange of verbal information and clinics for the actual medical practice between the Eastern and Western medical sciences. In 1994, the Kunpen Lama Gangchen Institute and the Himalayan Healing Centre jointly financed a one-year project of a leprosy station in Kathmandu and another station which is linked to the Sanku hospital, 20km outside of Kathmandu.
Lama Gangchen financially supports the construction and upkeep of schools, clinics and monasteries in India, Nepal and Tibet/China, supplying them with different therapeutic systems, trained Western doctors and facilities, materials and medicines. In 1994, Lama Gangchen founded Peace Radio La Radio della Pace and Lama Gangchen Peace Publications, both situated in Milan, Italy. Their aim is, respectively, to broadcast and spread positive information about Inner and World Peace Education, Self-Healing, self-responsibility and self-morality, natural therapies, environmental awareness and inter-religious cooperation.
See this beautiful video of Rinpoche. http://www.youtube.com/watch?v=jRNHW_Xbrdw